#042 - Olimpia Zagnoli - Second Edition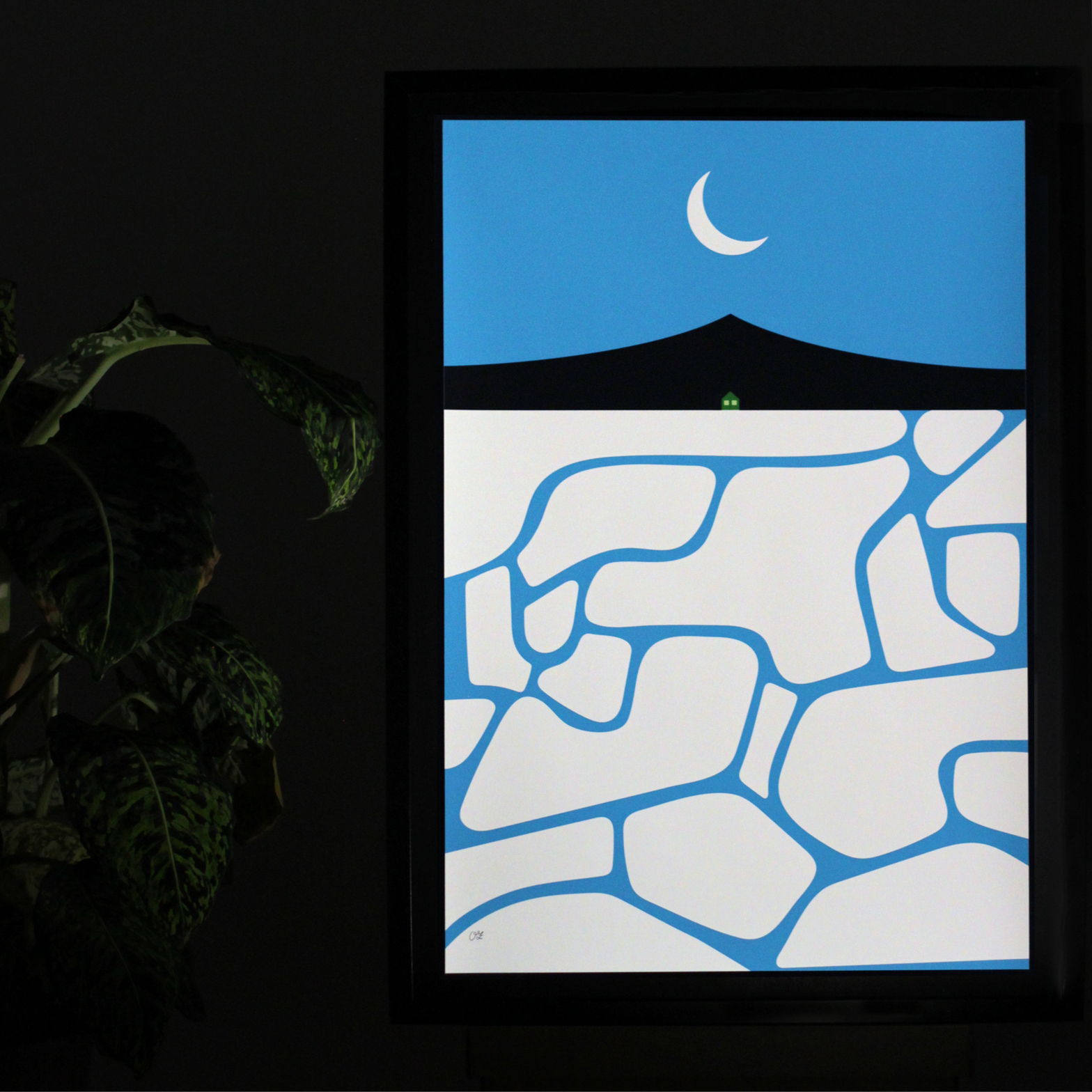 #042 - Olimpia Zagnoli - Second Edition
Destination: Tromsø , Norway
Date: 22 - 25 February, 2018

About the print:
Dimensions: ± 44,5 x 64,5 cm
Colours: 4 colour silkscreen print, including glow in the dark ink
Edition: 50 prints, signed and numbered by the artist
(frame not included)
A little word by Olimpia Zagnoli
"The one thing that made the absolute most impression on me was the light. I have never been so far up north before so it was my first time experiencing that kind of low honey light that makes everything feel calm and warm despite the freezing weather. I also had the chance to see a little bit of Aurora Borealis and there again, light manifested itself in such an unexpected magical way and to see it reflecting on the snow was a psychedelic sweet moment. Other than that, I definitely didn't expect to dance to the Ramones in a punk rock bar with gloves on my first night there.

When I saw Tromsø from the plane the sun was setting, you could see a slice of the moon and the snow created beautiful soft curves on the horizon. On top of the many lakes in the area, there were pieces of ice that reminded me of Jean Arp's work. All around little triangular wooden houses with lit windows would pop here and there. It was a beautiful sight. Another one-of-a-kind vision was the one I had the night we went in search of the northern lights. Hannah, our guide, drove us to a remote place in the woods next to a beautiful frozen lake and there we sat around a fire for hours waiting for something to happen. After a couple of hours, the sky became alive and an incredible fluorescent wave started moving sinuously above our heads. The lake reflected this unusual show and the tiny boat on it seemed to be floating on a tv screen. It looked like a dream."
Travel diary
Friday, February 23, 2018
First day in Tromsø, Norway. The light here is really different, low and warm as if the sun was about to set all day. The wooden houses are painted in white, dark green, mustard and warm red. The architecture is pointy and regular but wide and welcoming. The snow surrounds it and sparkles from time to time. Thanks @thejaunt for the opportunity to see all of this.
Friday, February 24, 2018
Second day in Tromsø. Last night we stayed up late chasing Northern Lights with Northern Soul Adventures. I woke up this morning thinking how can nature be so bizarre sometimes and how is it possible that we survived the cold. Thanks Hannah for everything and the soup.
Saturday, February 25, 2018

Third day in Tromsø. Had a hot chocolate for breakfast then crossed the bridge that takes to mainland Norway. Visited the Arctic cathedral by Jan Inge Hovig (1965) then took the funicular to the top of the mountain. The cold up there was almost unbearable (phone died twice and taking gloves off to report felt like a very dumb choice) but the view was quite something. Thanks The Jaunt for this trip, I probably would have never ended up here without you.