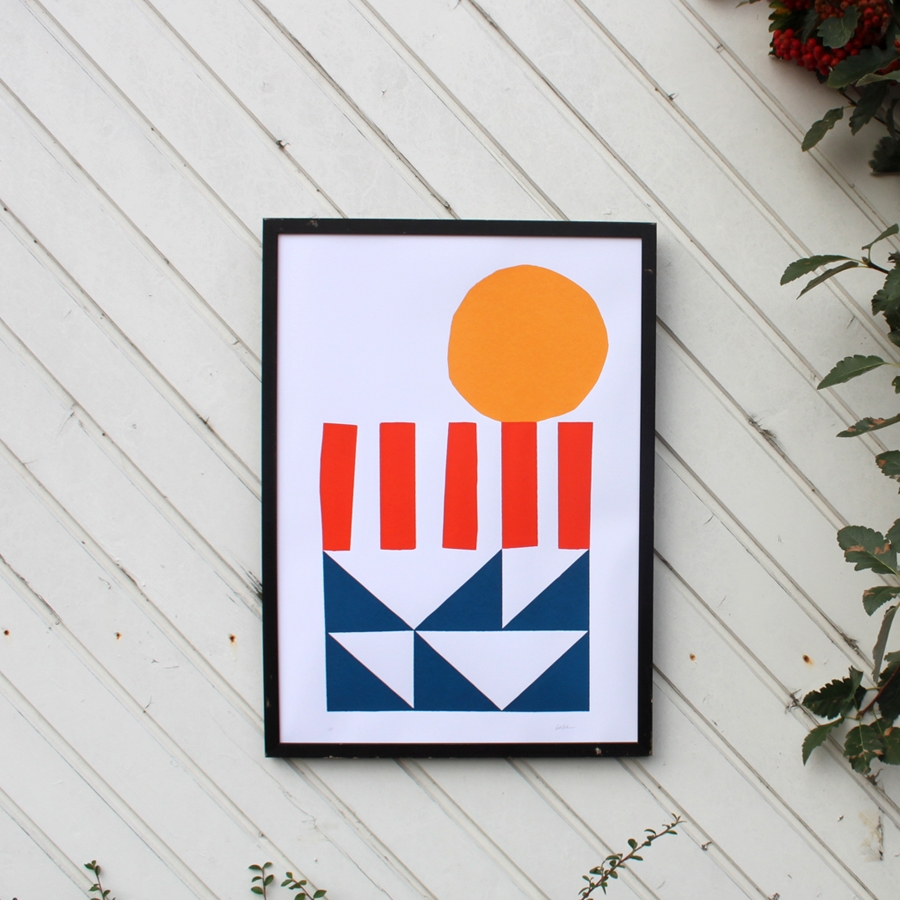 #016 - Cody Hudson
Destination: Mexico City, Mexico
Date: 28 July - 02 August, 2015

About the print:
Dimensions: ± 50 x 70 cm
Colours: 3 colour silkscreen print
Edition: 50 prints, signed and numbered by the artist
(frame not included)
sold out
A little word by Cody Hudson
"I purposely didn't do a lot of research beforehand, as I wanted to go into my trip a little blind and really just see what happened. So many times when I'm traveling I have this strict schedule of things to do and I really wanted this trip to be on a different pace. To be honest, when I told people back home I was going to Mexico City most of them either said "It's my favorite city in the world" or "Be careful, it's dangerous". What I experienced when I arrived was so much more of the positive. I walked the streets everyday for hours and let the sites, architecture and views make their impressions on me. The colors, and patterns everywhere, the sounds, the music and dancing in the park, the smells of amazing food on the streets. All of these things made a big impression on me.

When I started working on the print, my initial sketches were all referencing the rich history of fabrics and textiles, which really spoke to me. But after getting back to my studio in Chicago I really wanted the print to reflect more of my personal interpretation. So I started working on a very minimal graphic cut paper sketches of things pulled from the hundreds of photos I shot during my trip. I started with the loose blue and white tile patterns that adorn the street posts in La Condesa, I mixed in some bold stripes inspired by the backs of the food tents lining the streets and topped it off with a simple circle that not only references shapes I have been exploring for years but also brings back memories of sun shining down on my my whole trip. In the end this print is very much in line with my current body of shape based works but is also fully inspired by my time in Mexico City."
Travel diary
Tuesday, July 28, 2015
"Packing up for Mexico City, should be there in 6 hours or so. Good times."
a little before and after action. walked to the "california" train station in chicago this am at 6:55. few hours later flew into this amazing looking city. looking forward to checking things out.
Shapes and Colors Dept alive and well in Mexico City. expect too see way too many photos like this over the next few days.
Wednesday, July 29, 2015

Started the day in full tourist mode checking out the Museo Nacional de Antropología. Some great architecture filled with so much history, colors, patterns, and textures. Really inspiring morning for sure…
Checked out the Museo De Arte Moderno today as well. Middle piece by Manuel Felguerez, it was made in 1968. Seems the more I look around the more I only like stuff from that year. Right piece by Helen Escobedo.
Thursday, July 30, 2015

Walking the streets taking photos of doors, snakes and Jesus.
Friday, July 31, 2015
Started the day checking out the Palacio de Bellas Artes and used the pro tip from my friend Sheba back in Chicago to go into the Sears store across the street to get a good shot from the 8th floor. Pretty great view.
Spent a few more hours hitting the Museo Franz Mayer checking out this museum dedicated to Latin America's largest collection of decorative arts . So many beautiful colors and patterns. Also hit some markets to find some fabric to bring home for the family and to get my daily taco fix (today was bistek, nopales and queso).
Also started to notice these random tile patterns on the bottom of sign posts in the Condesa area. Digging the blue and white combo. Looks like most of them are all different combos of the same tiles. Also ran into this geodesic dome building on my way back home. Looked abandoned, I wonder what it used to be?
Saturday, August 1, 2015
Started off the day hitting up Mercado Ciudadela and getting a massive pile of hand embroidered runners, fabrics, a ceramic bird and clothes for the little ones at home. Some really nice hand crafted pieces that made it hard not to just keep picking things up. Made for a great start to the day. Grabbed some quesadillas for lunch on the cheap (really going to miss eating a nice lunch every day for $2 - $3).
Figured since i spent so much time this week at museums id keep it more low key and just walk around the streets more. Found a good little open air spot right by the air bnb to grab some much needed cervezas and pulpo. Also did some drawings in the down time. I brought a bunch of art supplies on this trip with me but ended up being so busy walking around every day that i really didn't crack them open so it was refreshing to just relax for a few hours, drink beer and draw.
Heading home tomorrow, hoping to get up early enough to sneak in some more fun (or at least some more queso flautas).
Sunday, August 2, 2015
One last stroll around the neighborhood before heading towards the airport.
Monday, August 3, 2015
Writing this back home in my studio in Garfield Park in Chicago. What an amazing trip. Mexico City is a very interesting place and surprised me quite a bit. I had no expectations leading into this and purposely did very little research going into it (other than getting a few choice recommendations from a few friends who really love the city) as i wanted to have as few plans as possible to just see what happens when you get dropped in a foreign city. From the minute i arrived i was surround by sites, sounds and smells. From the vendors and tents selling great food on so many street corners to the Saturday dance party i walked through outside of the library made up of all people over the age of 50 getting down in the square to the markets filled with colorful trinkets and fabrics to the painted walls and ornate doors and lush vegetation i would see on every block. My journey there might not have been a typical one but i tried to make it my own.
Thanks so much to Jeroen and the crew at The Jaunt for making this happen. Excited to get to start working on the print now. Time to dig through hundreds of photos and start seeing what happens…