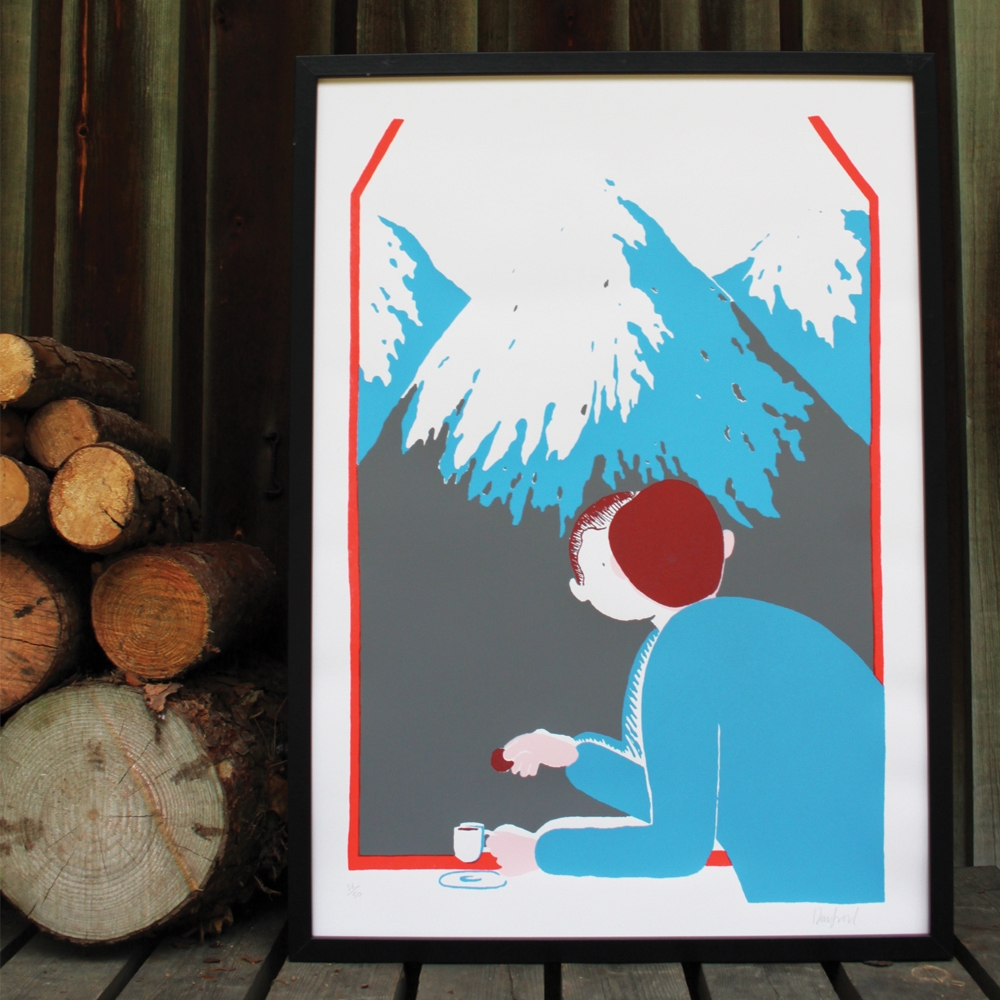 #014 - Daniel Frost
Destination: The Glacier Express, Switzerland
Date: 19 - 23 May, 2015

About the print:
Dimensions: ± 50 x 70 cm
Colours: 4 colour silkscreen print
Edition: 50 prints, signed and numbered by the artist
(frame not included)
A little word by Daniel Frost
"There were lots of really impressive moments on the trip, but I think the biggest one was the change in landscape and weather. I don't think I was prepared for how dramatic it would be. My trip started in Geneva, where it felt like summer, but as I travelled further East the weather and landscape intensified, traveling by Lac Leman towards Brig and with St. Moritz as the final destination. Along the way the mountains became closer and closer until I was completely surrounded. The mountains gradually became whiter, and more foggy. After a 10 minute climb inside a tunnel, the journey climaxed in an amazing bright snowscape that looked like the surface of the moon - it was incredible!

The Glacier Express felt like a futuristic spaceship, with smooth minimal grey panels and glass windows that stretched to the roof of the carriage. It made me feel like I was a tourist in the future, which I really enjoyed. It is quite surreal to take in this intense landscape along the Glacier Express, while viewing it from within the train, with comfortable seats and a three course lunch. It allows you to explore every little detail as well as the whole scenery, which gives you an almost cinematic view of the beautiful nature. For my artwork I wanted to capture that contrast between the comfort and the wild epic landscape outside, while putting people in the position of myself while I was so fortunate to make this amazing journey."
Travel diary
Wednesday, May 20, 2015
Hello Everyone! so this is my first post after my first day in Switzerland. I landed in Geneva yesterday afternoon and took a train to Brig where I'll be starting my journey on the Glacier Express. The trip from Geneva to Brig was amazing, the train took me around the beautiful Lac Léman which is surrounded by giant Mountains. The views were incredible and I feel that they are only going to get better and better. Today I'll be taking the Glacier Express from Brig to St. Moritz which I'm really excited about. I will share some more photos and drawings of this incredible journey soon!
Little Posca doodle I did on the plane to Switzerland.
Thursday, May 21, 2015
Hello everyone! Here are some photos from my amazing journey aboard the Glacier express. My journey started in the beautiful town of Brig where I followed the mountains and valleys of Southern Switzerland till I reached the dramatic and famous Ski resort of St Moritz. The journey was incredible with scenery that change so dramatically its felt as if you were watching a film. We climbed mountains and went through them, over valleys and across plateaus.
The weather also changed, going from clear sky's to dense fog from rain to snow - it was like travelling through serval counties in one.
As you could imagine, I took a lot more photos than this and made a few drawings (of which I will post more today). All this was done from my comfortable seat aboard the Glacier express.
Today I have plans to explore St. Moritz and make some drawings of the adventure so far.
Going to go out at explore St Moritz today! Thanks The Jaunt for sending me on this adventure!
An image of the dazzling view from Glacier Express!
So today I have been exploring the historic town of St Moritz. The town is a beautiful and dramatic place surrounded on all sides by towering mountains and in the centre an amazingly clear lake. The town was very quite as it is not the tourist season, so it was very quite and peaceful. Tomorrow I will be taking the Glacier Express back to Brig, which I'm really excited about as I'm sure there will be new amazing sights to be seen - although I'm sad to be leaving the beautiful and peaceful St Moritz!
Friday, May 22, 2015
Hello Everyone! Today I was lucky enough to board the Glacier Express for a second time and take it all the way back to the beautiful town of Brig. I'm so happy I did too, as I felt I saw a different side to the Swiss alps. As we slowly left St Moritz and made our way to Chur the fog lifted and disappeared giving me great views into the valleys that were invisible to me the first time round. But as we went further the clouds opened and showed me a different sight - summer in the Swiss alps! It was like a moving postcard.
I've never experience anything like this before, so many different environments in one journey, going from thick snow and dense fog to bright blue sky and green mountains. It was the most amazing journey I've ever taken. Thanks so much to The Jaunt for giving me the opportunity to experience this incredible journey.
Tomorrow I will take the train back to Geneva where I will send more drawings and photos from my last train journey in Switzerland.
Saturday, May 23, 2015
Hello Everyone, and goodbye amazing Switzerland.
Today I took one last adventure around the city of Geneva before taking my plane back to London. Sketching and taking photos as I went. Geneva isn't a big city, but its a very historic and beautiful place sitting on the corner of Lac Leman. I had lot of fun wondering about for the day especially at Pac des Bastions where I drew some of the extraordinary trees (that looked more like animals than trees). While I was there I also found the famous giant chess boards! It was amazing to watch, seeing the players think and chat amongst the knee high chess pieces. Its was also a lot of fun to draw, capturing the players in action!
This journey has been amazing, it has shown me the extraordinary nature and environment, as well the day to day life of many of the cities and towns I have visited. Switzerland is an incredible place and somewhere you need to visit!!!
I hope that you have enjoyed reading (and looking) at my amazing journey. It has been one of the most exciting experiences of my life and has pushed me and my work in a new direction. Thanks again to the The Jaunt for giving me the opportunity to do this, its been incredible!
Thanks for reading.
A view into the valley on the Glacier Express!